The Adventures of the Mini-Goddess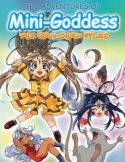 Title
The Adventures of the Mini-Goddess
Categories
Year Published
Users who liked this show also liked...
User Rating
Average user rating is : 77%
Description
Whenever Keichi leaves the house, Belldandy, Urd and Skuld shrink themselves to play with the other residents of the area - including their clueless rat sidekick, Gan. Whether itís fishing lessons by Gan or the case files of Detective Skuld, the goddess adventures are dangerously funny!